Published on December 15, 2013
Staff Spotlight : Casey Delinsky
Written by The Servion Group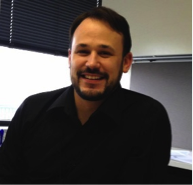 Casey Delinsky began as the new Secondary Market Manager at CU Companies in November 2013. Delinsky joins the team with a background in strategic consulting and hedging for mortgage companies.
"I am really enjoying my position and the culture here at CU Companies. We are working on making several changes that will really help the effectiveness of the department," said Delinsky. "We are looking to bring in new products to offer to our correspondents which would create a system for tracking our pipeline of loans. We want to increase efficiency so that we can give a better price to our owners and partners."
"I am excited about the opportunity to work here and see things from inside of a mortgage company instead of from the outside. I look forward to developing relationships with our owners and partners and finding better ways to serve them."