Published on December 17, 2020
4 LinkedIn Tips for Loan Officers During COVID-19
Written by The Servion Group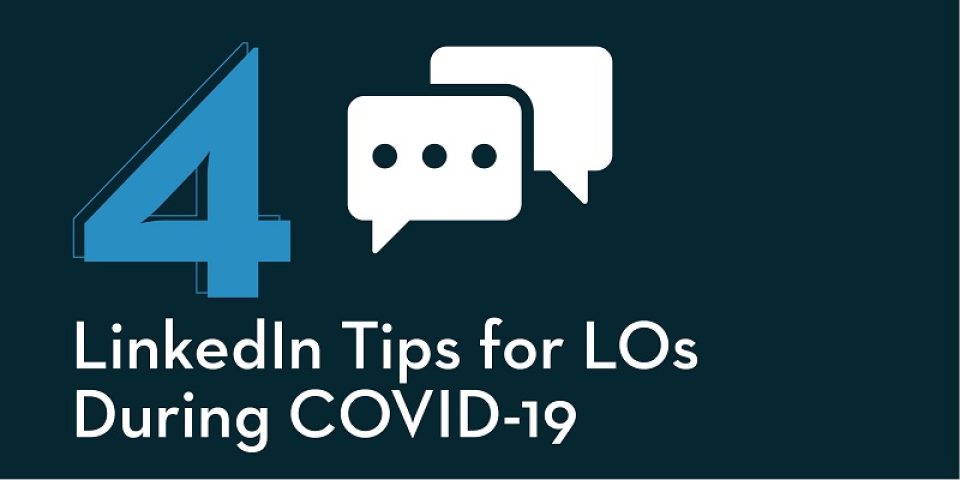 For loan officers, LinkedIn can be a valuable lead generation source during normal times, but the platform has shown it can also be valuable during the pandemic.
Why? Well, to put it simply, far more people have been spending far more time online during COVID-19. In fact, during the pandemic, LinkedIn is seeing 22 percent more sessions compared to a year earlier, according to Hubspot. With more people online, LOs have a chance to become more visible and familiar to a larger audience.
Here are four tips to help loan officers get their profiles in tip-top shape.
1. Optimize Your Profile Content.
Every piece of information in your profile matters. This is because LinkedIn searches work very similar to Google's. Keywords located in your content, headlines, and summaries are indexed and used for search results. To improve your rankings, focus on optimizing the content in your profile around the topics that you want to be known for among your followers.
The "About" section is a great place to do this. Use it tell a story about why you love being a loan officer, how you approach your job, etc. In the process of describing these things, you'll automatically use words that search engines – and humans – like to see.
2. Add a good headshot.
Users online want to see you. It gives them a sense of familiarity that helps them feel more comfortable in contacting you. You'd be surprised how many loan officers skip this step, and it just makes their profiles look incomplete.
PRO TIP: Professionally taken headshots look best, and they usually don't cost very much. It's a very worthwhile expense.
3. Ask for recommendations.
What others say about you means more than anything you can say about yourself. Once you've gotten a client over the finish line of buying their home, don't be afraid to ask them to go on LinkedIn and write a recommendation about you. You can also ask for recommendations from managers, past co-workers, or anyone else who knows how great you are!
PRO TIP: If someone wants to recommend you, just ask the person to 1) go to LinkedIn.com, 2) search for your name, 3) find your profile, and 4) scroll down until they see the Recommendations section.

4. Don't be afraid to interact.
LinkedIn isn't just for career updates anymore. You can connect with people inside and outside your professional network, and even post your own material. Interaction doesn't always mean you have to write a long article, either. You can do much easier things, such as leaving comments on posts you find interesting and sharing content posted by other people. This can help increase your visibility and get you more exposure.
Want to post your own content? Here's a quick idea. Consider posting a short paragraph about what mortgage rates are looking like in your area this week. Nothing fancy, just something to put out there that's easy and it's something people care about.
The Bottom Line
Taking the time to optimize your LinkedIn presence during the pandemic, even if you're really busy, is a great way to help yourself right now, but maybe more importantly you'll have a better network to rely on when things slow down, eventually.