Published on November 30, 2022
Offering E-Closings to Borrowers
Written by Lending Conference Speaker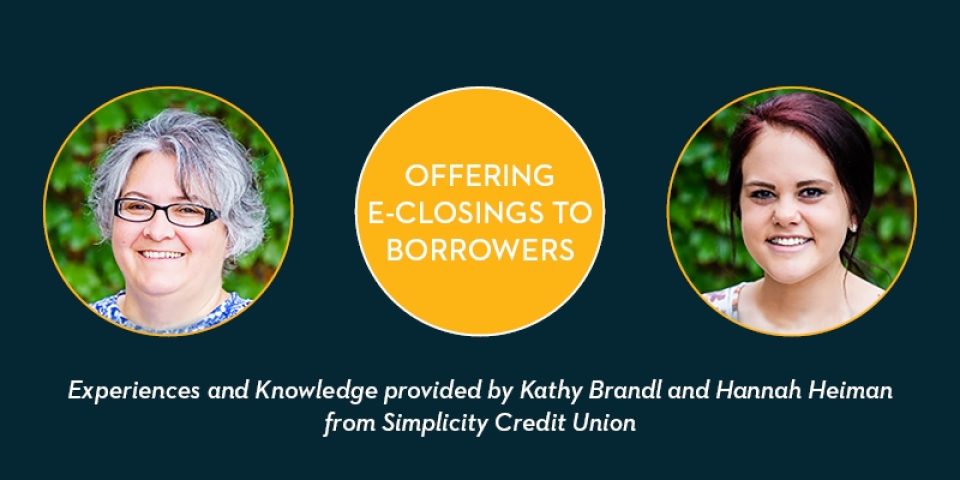 Kathy Brandl and Hannah Heiman - Simplicity Credit Union (from the 2022 Lending Conference)

With technology becoming a part of nearly every business transaction, it's no surprise that the number of e-Closings is expected to increase over time. Representatives from Simplicity Credit Union in Marshfield, WI, recently participated in Servion's Lending Conference and shared how their organization successfully transitioned to offering e-Closings to customers.
According to Simplicity, a closing doesn't have to be 100% digital to be considered an e-Closing. A closing that is partially electronic and partially paper is called a hybrid e-Closing.

Here are some of the top factors driving adoption of digital mortgage technology in next 12-18 months:
Customer expectations for a digitized mortgage process
Potential reduction in time-to-close
Organizational leadership is committed to digital transformation
Pressure from competitors who are adopting digital process
Need to find process efficiencies due to staffing tightness
Tightening margins due to expected decrease in demand for mortgages
Here is the "crawl-walk-run" evolution Simplicity Credit Union used to guide their transition.
Phase 1 – e-Sign Hybrid
Paper note, paper notary documents, all other electronic documents
Phase 2 – e-Notes Hybrid
e-Note, paper notary documents, all other electronic documents
Final Phase - Completely Electronic
e-Note, e-notarization of documents, all other electronic documents

Their team experienced the following benefits:
Better experience – It's a faster process internally and externally; customers can review documents prior to closing; credit unions can answer questions in advance
Convenience – No printing, copying, or scanning, nothing gets lost in mail. This makes the job easier for closing agents
Time saver for all partners
Improved security due to increased compliance; customers use an access code and process involves smart docs that can't be edited. Younger borrowers appreciate security
Improved accuracy – There are no missed signatures, no audits needed
Post -closing efficiency – All documents are sent to federal channels at one time so there's no need for oversight
The transition for Simplicity Credit Union was extremely successful. In August 2022, Simplicity Credit Union processed 55 loans with 37 that included e-Notes. Only 8 closings required employees and customers to meet in-person at the office.