Published on February 10, 2023
Tips to Maintain a Healthy Home Loan Pipeline to Fuel Spring Sales
Written by Ariel Jacobsen & Matt Bartlett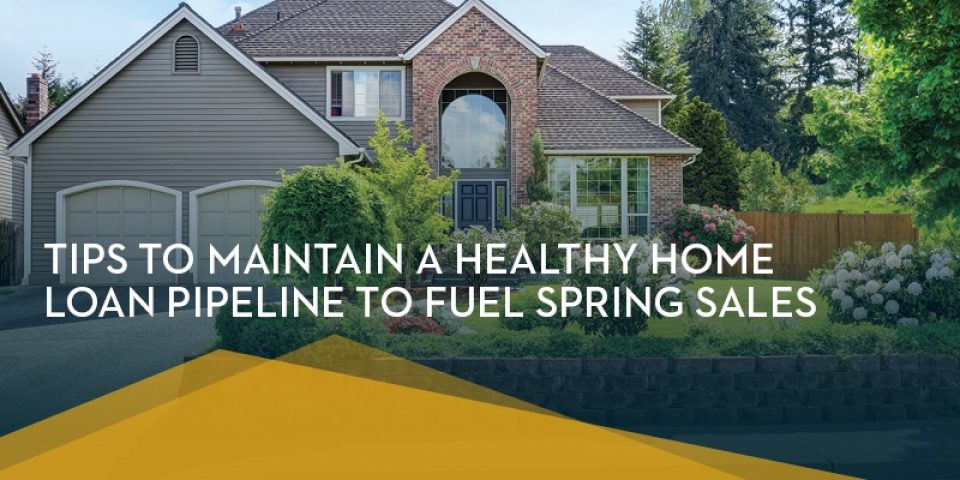 As interest rates continue to rise, some homeowners who have been pre-approved for loans at a certain amount may have decided to pull out of the market entirely (because the monthly payment is now significantly higher) or they may be reassessing their comfort level with the loan amount they originally were approved for.
With the spring home buying season around the corner, here are some tips for working with potential home buyers to set the stage for quick action when they find their perfect home.
Encourage buyers to reduce their focus on interest rates. Instead, work with buyers to determine the monthly payment they are comfortable paying and how that amount fits in their monthly budget.
Confirm the comfort level of your buyer. Some may have been approved for loan amounts that were at the highest level, but with rising interest rates, they may no longer feel comfortable extending to that level.
Arrange a detailed conversation with a loan officer early in the process. Work together to calculate the maximum monthly payment that a buyer is comfortable paying that includes fees associated with taxes, hazard insurance, mortgage insurance and association dues (if applicable).
Ask buyers how much money they want to have in reserve after the sale is complete – just in case they need funds for other expenses. Ask them to consider future earning (and saving) potential, anticipated raises, or any other loans they may pay off in the future which could impact their overall fluidity.
Put homebuyers in a position to submit the most complete loan application as quickly as possible when they find the right home. If needed, you can find a mortgage toolkit on Servion's website. https://myservion.mymortgage-online.com/MortgageToolbox.html
If the buyer is currently renting, take time to point out the value of building equity and tax benefits of owning a home.
Offer advice instead of selling on price. "Date the rate…marry the home." While interest rates are higher than they have been in the last 3 years, eventually, they will trend down, and you never know when your dream home will be available again. If you find your dream home, the opportunity to refinance to a lower rate in the future will more than likely present itself.
With interest rates on the rise, ARM (adjustable-rate mortgages) have become very popular and may be an option depending upon qualifications and how long the buyer plans to be in the home.
Servion's experience shows that two demographics are still actively interested in seizing a home-buying opportunity: young professionals who aren't familiar with lower interest rates and empty nesters looking to right-sizer home as they prepare for their future aging in place. Taking time to work with your buyers to have approved loans in the pipeline will help them better take advantage of spring inventory.