Published on November 12, 2020
Paycheck Protection Program Success
Written by Tony Lillie
At the onset of the coronavirus pandemic, the U.S. Congress passed the CARES Act to help stimulate the economy. That piece of legislation created the Paycheck Protection Program (PPP) to help small businesses with the costs of payroll, rent, utilities and other expenses so they could survive the lack of business that came with the country's initial lockdown phase.
Between March 27 and the end of the Program in on August 8, 2020, Servion Commercial Loan Resources provided assistance to credit unions and community banks around the country, helping them navigate the Paycheck Protection Program and deliver much-needed funds to local businesses.
Helping Partners Achieve PPP Success
Working with banks and credit unions during the pandemic was one of Servion Commercial Loan Resources' proudest moments. We were pleased to be in position to help financial institutions during what proved to be one of the more trying periods in recent history. We believe in the value of local business, so having the chance to work on PPP loans that helped so many of them stay open is meaningful work.
With the program at its end, we wanted to provide some information on our involvement. The infographic below highlights that for readers. You can also download a PDF version if you prefer.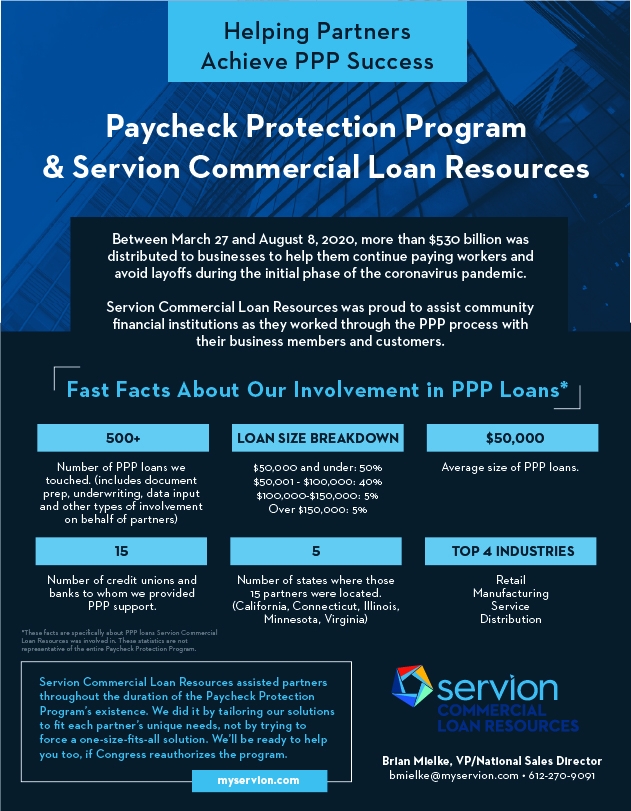 We're Always Here to Help
Servion CLR exists to help credit unions and community banks establish and grow their business lending efforts. If you would like to have a discussion about your unique needs and what we may be able to do to help, please contact us.
You can find more information about our services here.