Published on October 12, 2023
A Survivor's Guide to Thriving in Today's Mortgage Business
Written by The Servion Group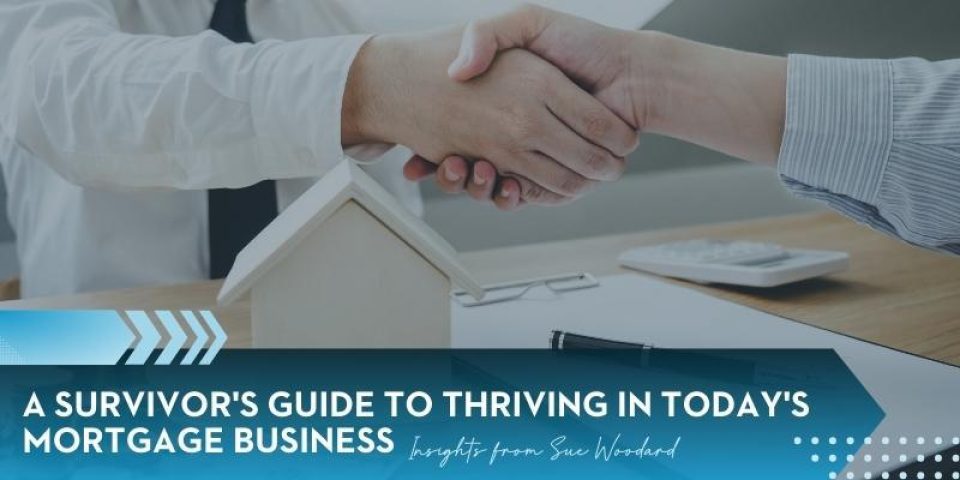 Day 1 of the 2023 Servion Lending Conference - "Evolve, Adapt, Thrive: Navigating the Lending Transformation" - featured keynote speaker Sue Woodard, a senior advisor at STRATMOR Group, a mortgage industry veteran, and a self-described adventurist who's fire-walked and cage-dived with sharks. Her captivating talk drew intriguing parallels between survival shows and the challenging terrain faced by mortgage professionals post the refinance boom.
While the mortgage industry is undergoing a transformation, Sue emphasized that taking action is the key to success. She introduced the "Seven Essential Elements for Survival This Year (and Beyond)":
1. Take Time to Intentionally S.T.O.P.

S. Stop and Stay Calm. Don't make the situation worse by panicking.
T. Think and Take a Breath. Evaluate your situation.
O. Observe and Own. Don't point fingers. Let go of what you thought would happen or wish had happened. Accept where you are.
P. Prepare to Proceed. Now is the time to move to the next step.
2. Have a Clear, Written Plan
Where are you right now? Know your numbers.
Where do you want to be? What do you want to accomplish? Set clear goals and write them down. Writing your plans is scientifically proven to be more successful.
How will you get there? Develop an action plan and build in accountability.
Accept that things don't always go according to plan. Pursue progress not perfection.
3. Make Sure Your Team is Solid and Aligned
No one succeeds alone. You need a team. Your team can be people who work with you or for you like, referral partners, family and friends.
Sue suggests putting together a board of advisors consisting of three to five people. Pick a few people who don't think the same as you and who will challenge you.
Ensure your team is clear on your goals, has a desire to see you win, communicates well, has accountability, has your back and is trustworthy.
Servion Mortgage, for example, is designed to provide community financial institutions with the tools and support they need to tailor mortgage lending programs to the current environment.
4. Have the Tools and Knowledge You Need to Succeed
Evaluate – and re-evaluate – the tools you have access to and what they can do for you.
What tools are you using? What else do you need? Ask questions and engage. Evaluate gaps, research and learn. Credit unions and community banks around the country partner with Servion to gain access to diverse and competitive mortgage options that meet the needs of both the institutions and the borrowers.
5. Take Care of Yourself
Taking care of yourself is a survival skill.
It's been tough over the last few years. We went right from running a marathon to running a new race, with no break. Many folks are not taking care of themselves.
Prioritize your health (strength, nutrition, sleep, mental, emotional, spiritual), finances (update budget, expense review, consult advisor, plan to review) and relationships (family comes first – both quality time AND quantity time.)
6. Have the Mindset of a Survivor
It's not the strongest people who survive, it's the most adaptable to change who survive.
Optimism is a survival skill. So is grit, consistency, gratitude.
Keeping clients optimistic and upbeat is the most important thing you can do. Don't go down the negative road; that doesn't help anybody.
7. Take Action for Your Business
Sue did a secret shopping exercise reaching out to mortgage loan officers in the Twin Cities market – and it wasn't a great experience. Many didn't even follow up with her, despite the current economy. The bar is low.
Developing your plan and taking action will set you apart.
You don't rise to the level of your ideas. You rise only to the level of your action.
In a mortgage landscape marked by transformation, Sue Woodard's insights provide a roadmap for thriving rather than just surviving. It's time for mortgage professionals to embrace these essential elements for success in today's dynamic environment.