Published on February 11, 2021
Top 4 Post-COVID Priorities for Community Financial Institutions
Written by The Servion Group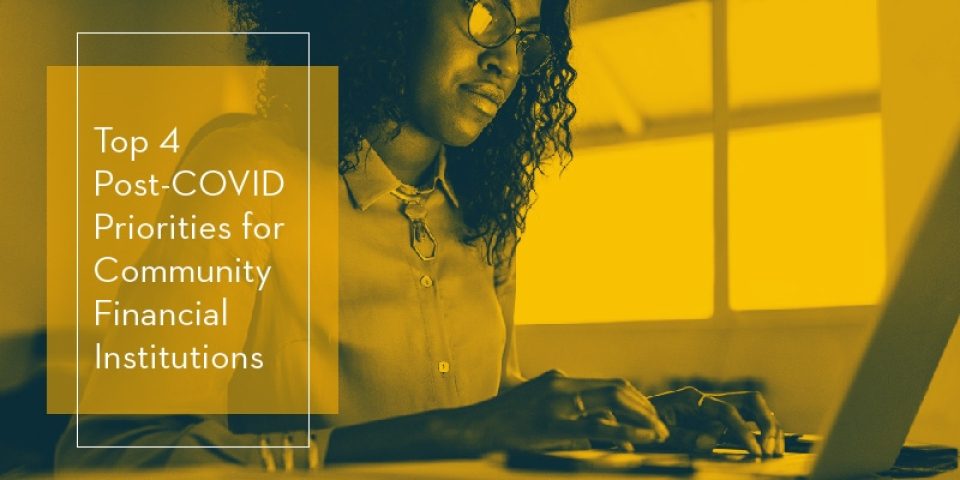 The Servion Group conducted a survey of its mortgage partners in the fourth quarter of 2020 to gauge how these credit unions and community banks were adapting to the COVID-19 environment.
One of the questions we asked was:
"What priorities do you believe your institution should or will address in the wake of this crisis."
We provided 10 answer options. These are the four most common responses.
#1. Remote Work Policies
Remote working was the number one thing on the minds of our survey respondents. The work environment drastically changed when the first stay-at-home orders were issued at the start of the pandemic. Credit unions and community banks are now giving some deep thought to what their remote work policies will be post-COVID.
According to The Financial Brand, working from home will be a key for banks and credit unions seeking to attract and retain talent in the future: "Flexible working arrangements are no longer a perk — they are becoming table stakes. Starting with the demands of working parents to not only have flexible working locations, but schedules as well, the 9-5 standard has essentially gone out the window. Post-COVID, employees will see loss of this newfound freedom as though they are not trusted by management despite the evidence that they're performing more than well enough to be trusted."
Moreover, research from the International Workplace Group found that 80 percent of employees wouldn't take a job that didn't offer work-from-home flexibility. And, according to Buffer's 2020 State of Remote Work Report, a remarkable 98 percent of employees said they want to work remotely at least part time for the rest of their careers.
Clearly, community FI leaders are right to be thinking about the role of remote work in their workplaces. The key will be for leaders to engage with their employees, find out what they really want, and find a balance between home and office work that fits the needs of both the company and its employees.
#2. Cross-Training and Knowledge Transfer
Credit unions and community banks were faced with new challenges when employees had to quarantine due to being diagnosed with COVID, exposed to it, or to care for a loved one who had the virus. The unexpected absences of employees often left knowledge gaps within the organization and made it difficult to get things done.
Our survey respondents indicated that cross-training is their second-highest priority going forward. With proper cross-training and knowledge transfer, the goal is to ensure that there are multiple employees who know how to perform certain tasks and nothing is dependent on one person.
#3. Technology Infrastructure
Technology infrastructure received the third-most votes in our survey. Applying and building on the lessons learned from the COVID-imposed work-from-home environment is something FI leaders should set as a goal. For credit unions and community banks, it will be important to think about:
Security of the organization's data
Security of member/customer data
Hardware and software designed for the modern digital environment
Communications tools including phone systems, meeting software and more
Integrity and strength of IT security of vendor partners
#4. Training or Retraining Employees on New Ways of Working (Reskilling)
Credit unions and community banks want to adapt employees' skills and roles to a post-COVID environment. Putting the right people in the right places, and ensuring people have the right training, will help your FI build resilience. Don't be afraid to make bold moves and try new methods of operating that make better use of your employees' skillsets.
Global management firm McKinsey & Company calls this "reskilling" and offers several ideas for how to get started:
Rapidly identify the skills your recovery business model depends on – For example, if you are moving from an in-branch focus to providing more digital services, you may need to bring on people with different skills or shift current employees who have the desired skills into new roles.
Build employee skills critical to your new business model – Help employees thrive in these four areas: digital skill; cognitive skill; social and emotional skill; and adaptability/resilience skill.
Start now, test, and change – Start reskilling your people now. Keep track of what works and what doesn't, and then try again. The idea is to progressively prepare your workforce to handle new challenges.
Act like a small company to have a big impact – Companies of under 1,000 employees are usually better at reskilling because they tend to be more agile and less bureaucratic. Large companies can do it too, it just tends to take longer.
Budget for learning – Companies slashed learning budgets after the 2008 crisis, and that only forced them to spend more heavily later. Keep learning in your budget this time around so you can avoid wasting years of opportunities to develop the kinds of efficiencies that come from real-time learning.
Here Are the Other Priorities From the Survey
This graph shows the top four post-COVID priorities discussed above, plus all the other answers respondents gave to our survey question.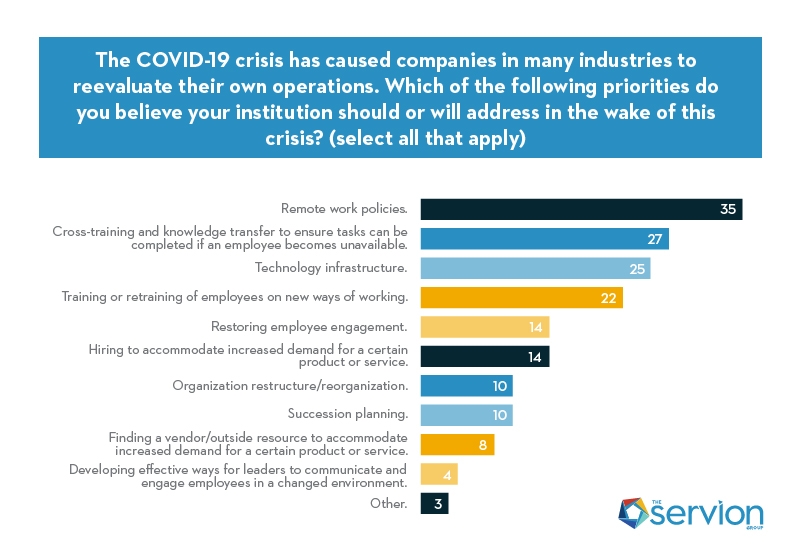 Conclusion
It is clear than community FIs have a lot to think about in preparation for a post-COVID world. These are the four most important priorities for your peer institutions. Have you had discussions about any of these topics within your organization? If not, there's no better time to start than the present!