Videos now available!
Now you can order a video version of any campaign! We'll create a 30-40 second video, complete with your institution's logo and contact information. These videos are perfect for your website, social media platforms, emails, etc.
Preview Sample Video
Featured Campaign: Open the door...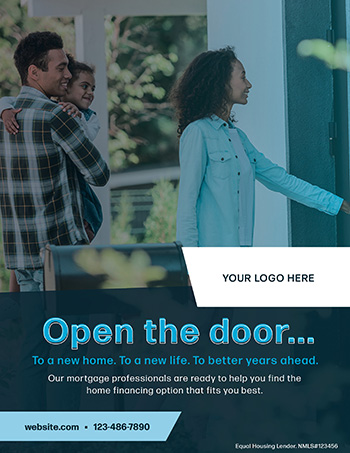 Open the door...
[CONTENT] To a new home. To a new life. To better years ahead. Our mortgage professionals are ready to help you find the home financing option that fits you best.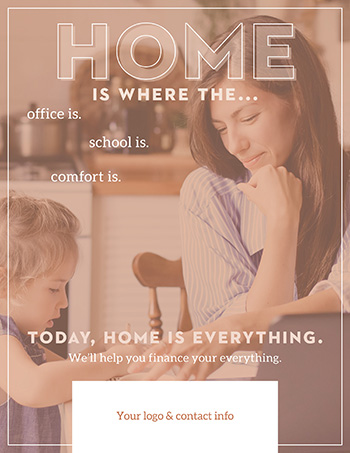 Home is where the...
[CONTENT] Home is where the office is. School is. Comfort is. Today, home is everything. We'll help you finance your everything.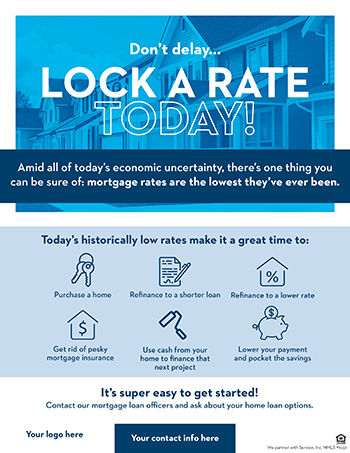 Don't delay... lock a rate today!
[CONTENT] Amid all of today's economic uncertainty, there's one thing you can be sure of: mortgage rates are the lowest they've ever been. Today's historically low rates make it a great time to: purchase a home, refinance to a shorter loan, refinance to a lower rate, get rid of pesky mortgage insurance, use cash from your home to finance that next project, lower your payment and pocket the savings.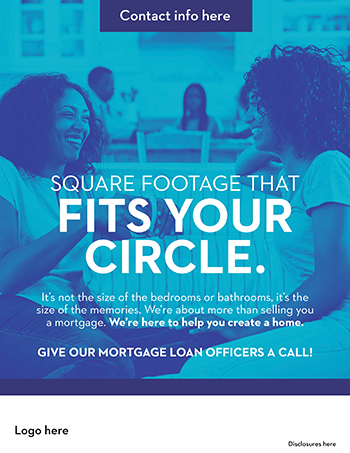 Square Footage That Fits Your Circle.
[CONTENT] It's not the size of the bedrooms or bathrooms, it's the size of the memories. We're about more than selling you a mortgage. We're here to help you create a home. Give our mortgage loan officers a call!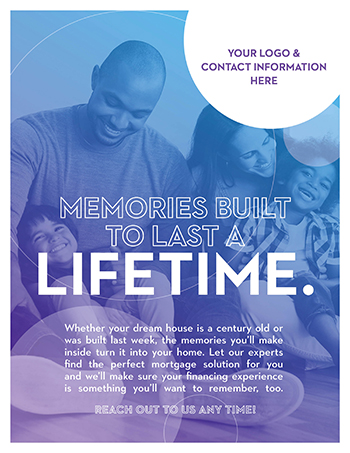 Memories built to last a lifetime.
[CONTENT] Whether your dream house is a century old or was built last week, the memories you'll make inside turn it into your home. Let our experts find the perfect mortgage solution for you and we'll make sure your financing experience is something you'll want to remember, too. Reach out to us any time!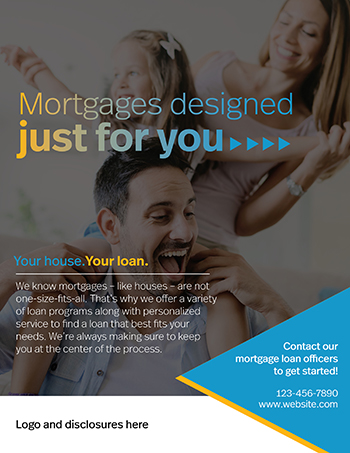 Mortgages designed just for you.
[CONTENT] Your House. Your Loan. We know mortgages – like houses – are not one-size-fits-all. That's why we offer a variety of loan programs along with personalized service to find a loan that best fits your needs. We're always making sure to keep you at the center of the process.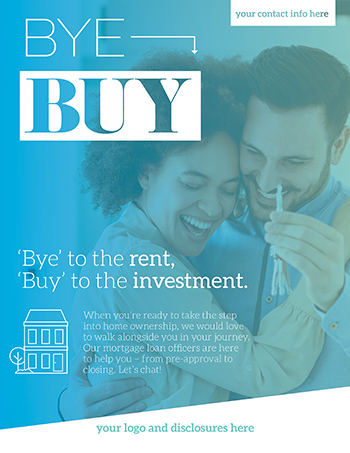 Bye to Buy: 'Bye' to the rent, 'buy' to the investment.
[CONTENT] When you're ready to take the step into home ownership, we would love to walk alongside you in your journey. Our mortgage loan officers are here to help you – from pre-approval to closing. Let's chat!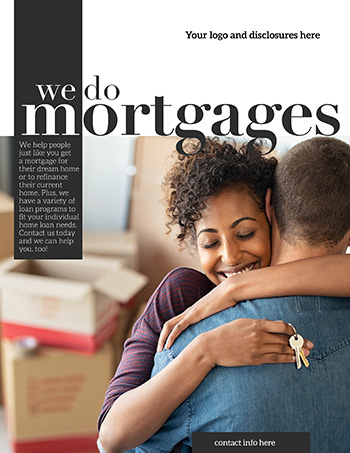 We Do Mortgages. (Version 1)
[CONTENT] We help people just like you get a mortgage for their dream home or to refinance their current home. Plus, we have a variety of loan programs to fit your individual home loan needs. Contact us today and we can help you, too!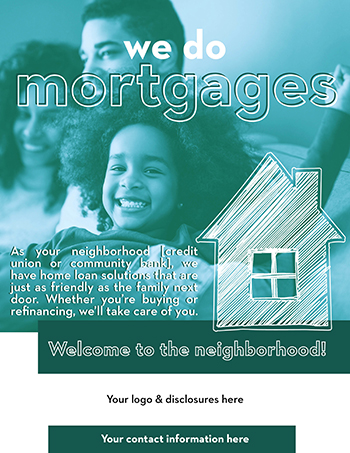 We Do Mortgages. (Version 2)
[CONTENT] As your neighborhood [credit union or community bank], we have home loan solutions that are just as friendly as the family next door. Whether you're buying or refinancing, we'll take care of you. Welcome to the neighborhood!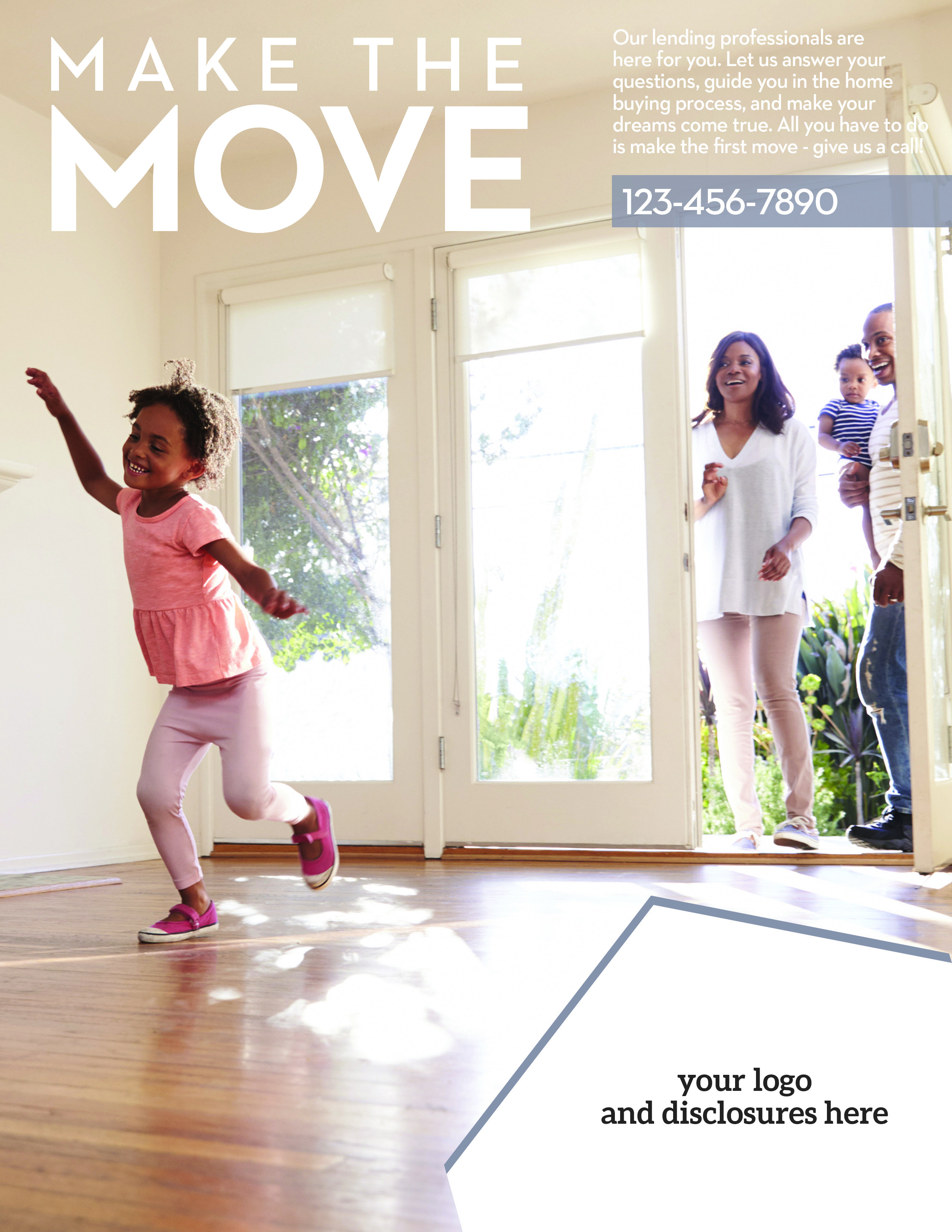 Make the Move.
[CONTENT] Our lending professionals are here for you. Let us answer your questions, guide you in the home buying process, and make your dreams come true. All you have to do is make the first move - give us a call!
In addition to the marketing campaigns below, click on Additional Materials for other mortgage marketing materials available to our subscribers, such as the Homebuyer Guide and individual mortgage product collateral.