Educational materials now available!
In addition to the mortgage advertising campaigns we have below, you can order educational materials on a variety of topics that give your borrowers a deeper understanding of the home buying process.
Take me there
Featured Campaign
You Are Not Loan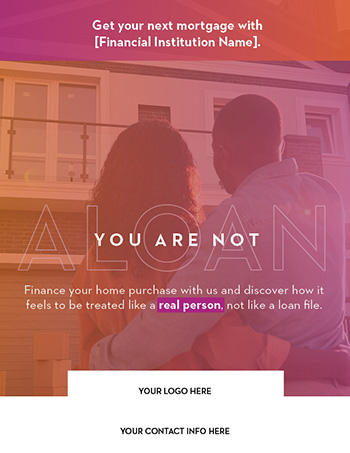 You Are Not Aloan
[CONTENT] Finance your home purchase with us and discover how it feels to be treated like a real person, not like a loan file.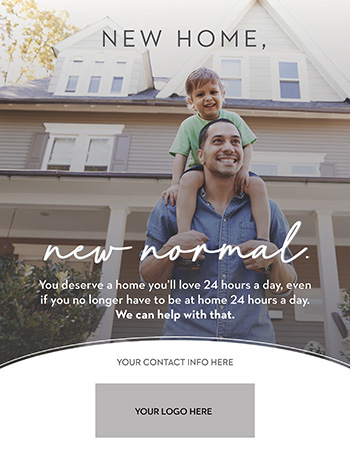 New Home, New Normal
[CONTENT] You deserve a home you'll love 24 hours a day, even if you no longer have to be at home 24 hours a day. We can help with that.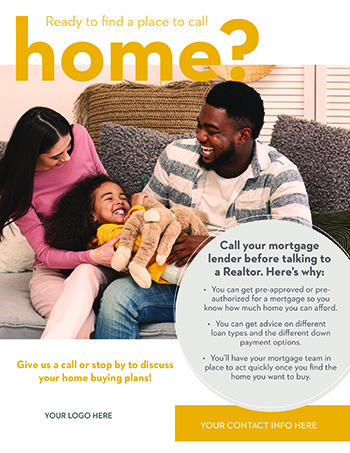 Ready To Find a Place to Call Home?
[CONTENT] Call your mortgage lender before talking to a Realtor. Here's why:

You can get pre-approved or pre-authorized for a mortgage so you know how much home you can afford.
You can get advice on different loan types and the different down payment options.
You'll have your mortgage team in place to act quickly once you find the home you want to buy.
Give us a call or stop by to discuss your home buying plans!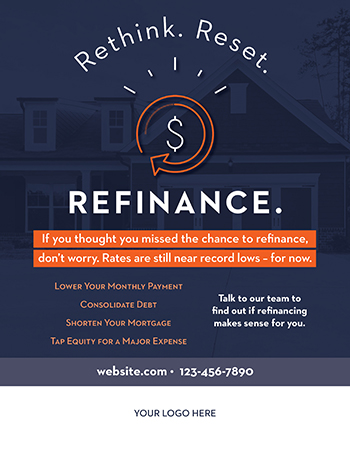 Rethink. Reset. Refinance.
[CONTENT] If you thought you missed the chance to refinance, don't worry. Rates are still near record lows – for now. Lower your monthly payment, consolidate debt, shorten your mortgage, tap equity for a major expense. Talk to our team to find out if refinancing makes sense for you.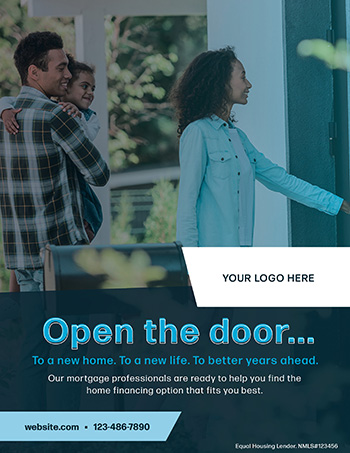 Open the door...
[CONTENT] To a new home. To a new life. To better years ahead. Our mortgage professionals are ready to help you find the home financing option that fits you best.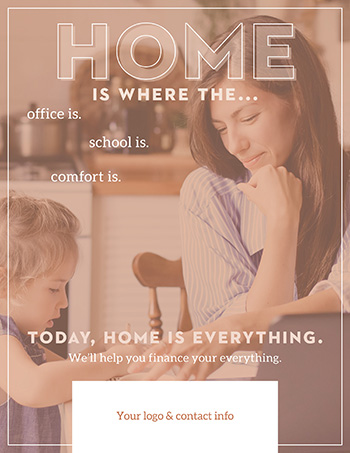 Home is where the...
[CONTENT] Home is where the office is. School is. Comfort is. Today, home is everything. We'll help you finance your everything.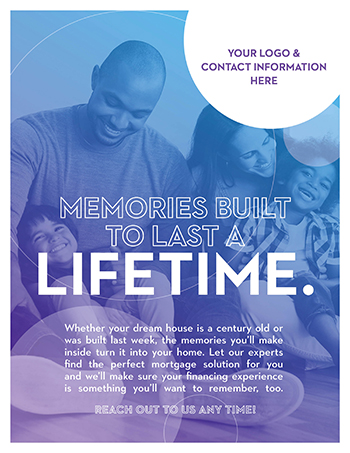 Memories built to last a lifetime.
[CONTENT] Whether your dream house is a century old or was built last week, the memories you'll make inside turn it into your home. Let our experts find the perfect mortgage solution for you and we'll make sure your financing experience is something you'll want to remember, too. Reach out to us any time!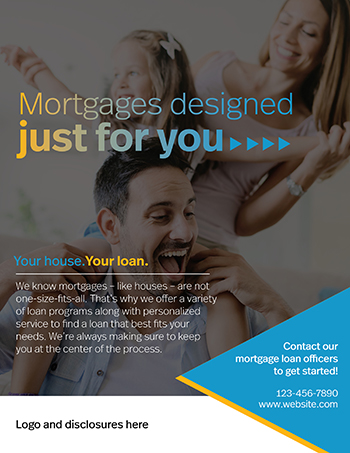 Mortgages designed just for you.
[CONTENT] Your House. Your Loan. We know mortgages – like houses – are not one-size-fits-all. That's why we offer a variety of loan programs along with personalized service to find a loan that best fits your needs. We're always making sure to keep you at the center of the process.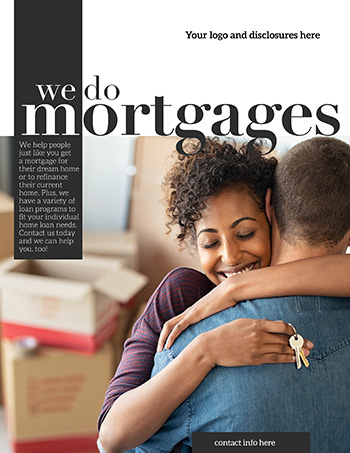 We Do Mortgages. (Version 1)
[CONTENT] We help people just like you get a mortgage for their dream home or to refinance their current home. Plus, we have a variety of loan programs to fit your individual home loan needs. Contact us today and we can help you, too!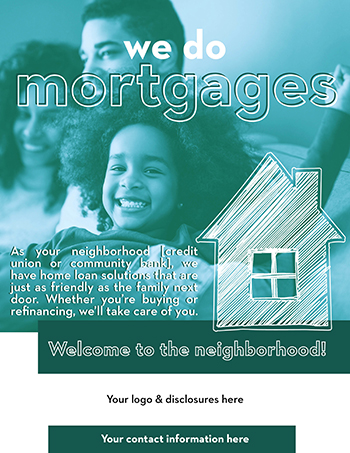 We Do Mortgages. (Version 2)
[CONTENT] As your neighborhood [credit union or community bank], we have home loan solutions that are just as friendly as the family next door. Whether you're buying or refinancing, we'll take care of you. Welcome to the neighborhood!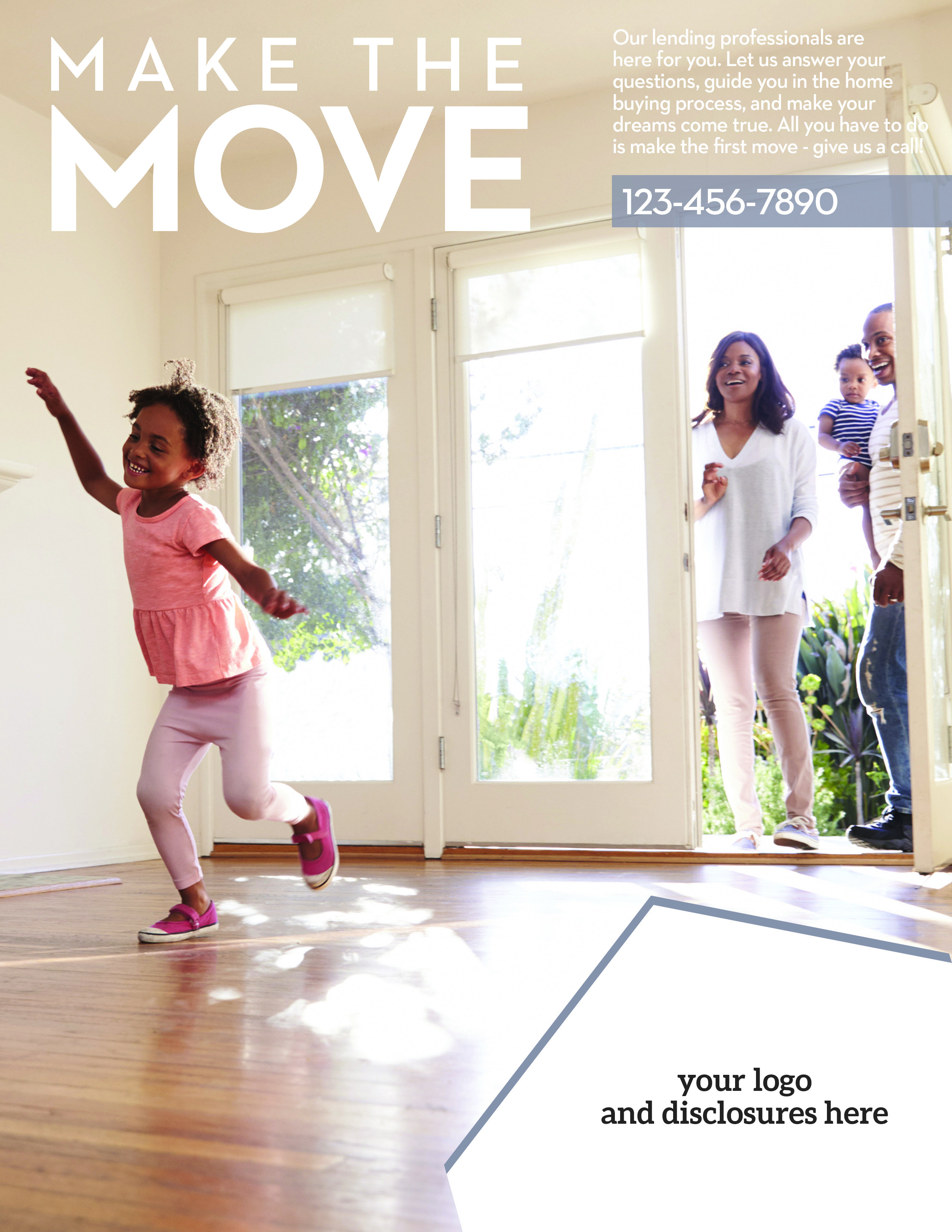 Make the Move
[CONTENT] Our lending professionals are here for you. Let us answer your questions, guide you in the home buying process, and make your dreams come true. All you have to do is make the first move - give us a call!