Featured Campaign: 4 Reasons Now is the Time to Sell Your Home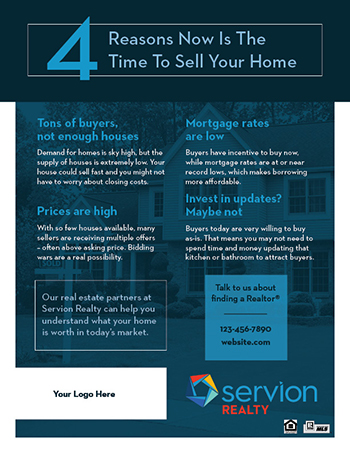 4 Reasons Now is the Time to Sell Your Home
Tons of buyers, not enough houses: Demand for homes is sky high, but the supply of houses is extremely low. Your house could sell fast and you might not have to worry about closing costs.
Prices are high: With so few houses available, many sellers are receiving multiple offers – often above asking price. Bidding wars are a real possibility.
Mortgage rates are low: Buyers have incentive to buy now, while mortgage rates are at or near record lows, which makes borrowing more affordable.
Invest in updates? Maybe not: Buyers today are very willing to buy as-is. That means you may not need to spend time and money updating that kitchen or bathroom to attract buyers.
Our real estate partners at Servion Realty can help you understand what your home is worth in today's market.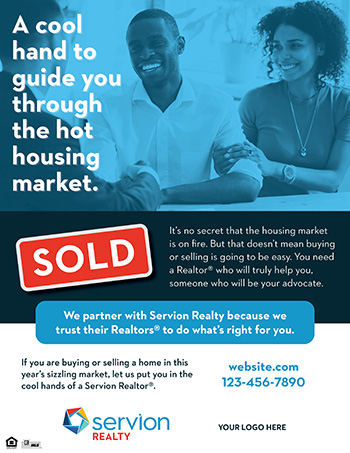 A cool hand to guide you through the hot housing market.
It's no secret that the housing market is on fire. But that doesn't mean buying or selling is going to be easy. You need a Realtor® who will truly help you, someone who will be your advocate. We partner with Servion Realty because we trust their Realtors® to do what's right for you. If you are buying or selling a home in this year's sizzling market, let us put you in the cool hands of a Servion Realtor®.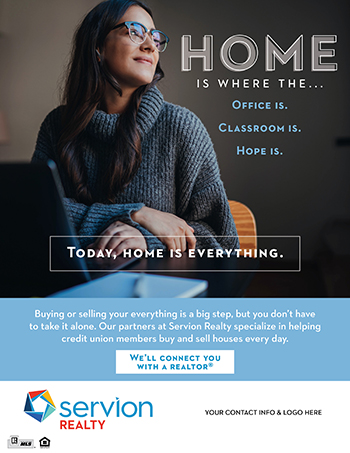 Home Is Where The...
Home Is Where The... Office is. Classroom is. Hope is. Today, home is everything. Buying or selling your everything is a big step, but you don't have to take it alone. Our partners at Servion Realty specialize in helping credit union members buy and sell houses every day. We'll connect you with a Realtor®.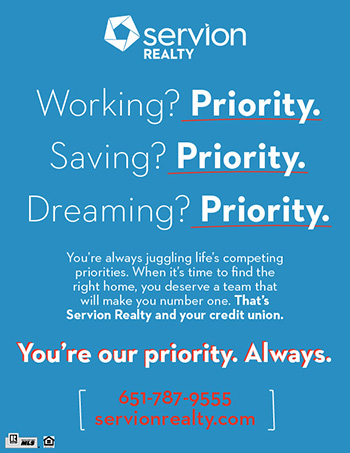 You're Our Priority. Always.
[CONTENT] Working? Priority. Saving? Priority. Dreaming? Priority. You're always juggling life's competing priorities. When it's time to find the right home, you deserve a team that will make you number one. That's Servion Realty and your credit union.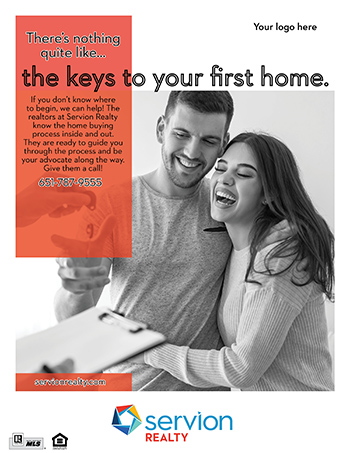 The Keys to Your First Home.
[CONTENT] There's nothing quite like... the keys to your first home. If you don't know where to begin, we can help! The realtors at Servion Realty know the home buying process inside and out. They are ready to guide you through the process and be your advocate along the way. Give them a call!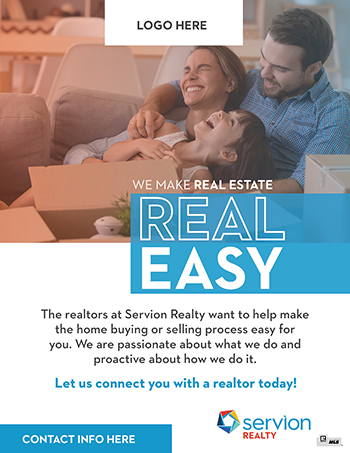 We Make Real Estate Real Easy.
[CONTENT] The realtors at Servion Realty want to help make the home buying or selling process easy for you. We are passionate about what we do and proactive about how we do it.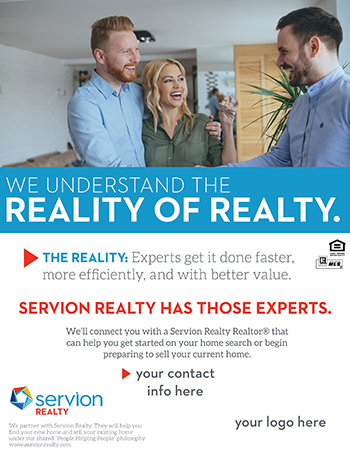 We Understand the Reality of Realty.
[CONTENT] The Reality: Experts get it done faster, more efficiently, and with better value. Servion Realty has those experts. We'll connect you with a Servion Realty Realtor® that can help you get started on your home search or begin preparing to sell your current home.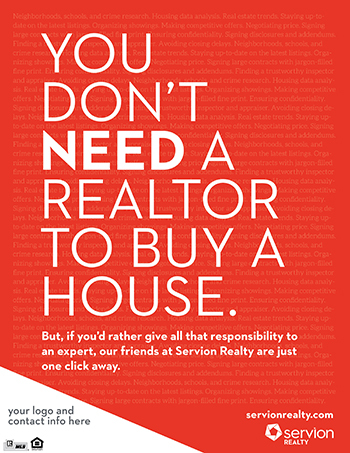 You Don't Need a Realtor.
[CONTENT] But, if you'd rather give all that responsibility to an expert, our friends at Servion Realty are just one click away.
BACKGROUND CONTENT REPEATED: Neighborhoods, schools, and crime research. Housing data analysis. Real estate trends. Staying up-to-date on the latest listings. Organizing showings. Making competitive offers. Negotiating price. Signing large contracts with jargon-filled fine print. Ensuring confidentiality. Signing disclosures and addendums. Finding a trustworthy inspector and appraiser. Avoiding closing delays.